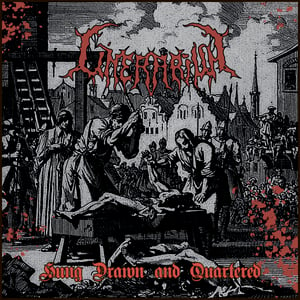 €

10.00 - On Sale
All Pre-Orders Sent After Date Release :
Date Release 12/12/2022
Debut Album Classic Brutal Death Metal Act From Italy !
The end of 2022, in addition to the global nuclear apocalypse, promises to present a music release of no less destructive power! The epicenter of this cataclysm is again on COYOTE RECORDS! This time, the epitome of a natural disaster will be the debut album of the Italian band CINERARIUM called "Hung Drowned and Quartered"! This creation is made in the style of brutal death metal and is recommended for purchase for fans of Sinister,Cryptopsy(early),Deranged,Dying Fetus,Ildispossed !
1.Sacramental mutation
2.Hung drawn and quartered
3.Gutted and incinerated
4.Demonic possession
5.Maniacal Infanticide
6.Kidnapped raped and slaughtered
7.Crucified on the burning cross
8.Cannibal obsession
9.Grotesque impalement (Dying Fetus Cover)